The Lititz AMBUCS is a local chapter of the National AMBUCS, a national non-profit 501(c)(3) charitable organization consisting of a diverse group of men and women dedicated to creating mobility and independence for people with disabilities.
To see a list of organizations we supported last year, please see our Press Release (2020).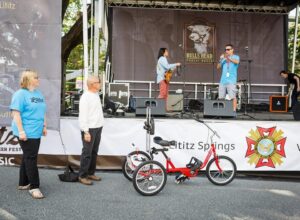 During our 5th Annual Lititz Craft Beer Fest in September 2018, we were able to give away an Amtryke to Jesus "Manny" Gonzalez, a Lititz resident and United States Army Veteran who sustained injuries to his leg while serving in Operation Enduring Freedom and Operation Iraqi Freedom.
To date, the National Ambucs has provided more than 30,000 Amtrykes around the United States. If you know of someone who may be a candidate for an Amtryke, please let us know.

Since 1956 the Lititz AMBUCS has been sponsoring the Warwick Community Ambulance Association.
The Warwick Community Ambulance Association serves Lititz, Warwick Townships, Penn Township, and Elizabeth township. Approximately 3500 times a year, they are called upon to assist community members with services ranging from simple transport by wheelchair to critical medical emergencies and traumas. Their providers consist of EMRs, EMTs, Advanced EMTs, and Paramedics who provide a level of service that exceeds our community's expectations.